Mobile VAS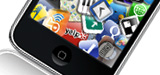 Mobile VAS (Shared Short Code Service)
Get ready for new age of communication over SMS using SMS Short Codes

World's best marketing tool is now available at your disposal. Get a keyword on our SMS Short code number "7464" to get connected with your customers any where any time. Incoming messages can be directly submitted to your database or you can also view the same from our website.

Today's cutting-edge Mobile and Cellular Technology has changed the way we live and work. Short Code Messaging service avails one stop interaction media through which we could interact with our customers directly and conduct various Media Promotion events like Contests/ Survey, Lucky Winner Draw, Bids, Product Enquiries, Lead generation in a cost effective manner.



Features

Free Web Based Control Panel
Create and edit your own service from our user friendly interface
Unlimited Sub Keywords
Re-sell sub-keywords on your primary keyword
Complete Real Time Web Based + Email Reporting
Change replies as many times you want .
Check reports from your Control Panel
Instant response



URL Posting: Most powerful and easy to configure facility, you could configure a Website URL where the sent message should be posted. Whenever a User sends SMS to the requested Service, the message gets posted to configured URL with 'MSG' as sent message field and 'MSISDN' as Message Sender Mobile Phone Number along with additionally configurable Optional fields like SHORTCODE, Operator, Area Code, Service Code etc.. Thus we could easily integrate our website data to this Messaging using any of our Web Scripting/ programming languages like ASP.NET, ASP, PHP, JSP etc. SMS Forwarding (Optional)

API to receive SMS directly in to your application (charged extra)


Typical Application Industries

• Content Providers: SMS, Jokes, Quotes, Stock Market Tips, Commodity Tips, Tea Market Reports, Jewelers, Portal Websites
• Educational Institutions: Exam Results Announcement, Quiz Contests, Entry Forms
Businesses/ Industries/ Consumer
• Goods Companies: Lead Generation, Dealership Enquiries, Product Support, Product Promotion, Online Distribution Channel Ordering, Account Statements (Balance, last 5 transactions), Product Information etc
• Typical Application Industries: Banks, Co-operative Banks, Credit Societies,
Educational Institutions, Government Organisations
• Event Management firms: For voting services, Event alerts, Event polling, Lottery, Promote Clients




Uses of Short Code Services

Lead Generation via Short Code
Add a short code to your marketing prospects and to your potential customer will get an additional channel to respond to. An auto reply text can then be sent back which is quickly followed up with a phone call.
Voting Competitions
These can be set up and through the use of our free SMS API Gateway you can even show the results live online.

Ringtones, Wallpapers, Videos, Games etc.
A Premium Rate Short Code combined with our free SMS API Gateway can be used to automatically deliver paid for content directly to the customer phone.
Store / Branch Finder
A Short Code can be set up where customers can text in their postcode and an automated reply can immediately go back containing details of their closest store and telephone number.

How it works?

SMS Short code service is primarily used for lead generation or receiving feedbacks from the customers. In a shared short code environment every company which wants to avail this service will be provided with a Keyword (Keyword is an unique identifier for your company on our shared short code. e.g. if, your companies name is XYZ Ltd and you took a keyword say XYZL on our short code then every message which starts with XYZL and a blank space will be forwarded to your panel. In short we recognize the incoming messages on the basis of keywords and forward it to the respective companies account.).

SMS the keyword to our shortcode (Deciding of keyword depends upon its availability).
A reply content given by you is automatically sent to that mobile number.
This reply content can be changed as and when required (but on a notice of 24 hours).
Facility 1: We will now require your email id from you, on which all the responses would be automatically sent . This is done so as to keep your data secured with you only.
Facility 2: We will provide you with a URL along with a user ID and password. And then you can check your MIS (responses) on that screen.
The query is sent through SMS on a specified pre-formatted format and keyword to our shortcode and a confirmation report or a relevant query response will be sent back to him. Client can avail our web or email based reporting interface.

Shared Short Code Pricing

General Keyword Price

| | |
| --- | --- |
| Volume | Unit Cost (BDT/per year) |
| 1-5 | 5000 |
| 6-10 | 4000 |
| 11-25 | 3000 |

** Keyword cost is based on yearly lease basis. Each activated keyword should generate 12000 sms per year (either MO or MT or both).
** Keyword might not be renewed for 2nd year if failed to generate required sms.
** Local/Global brand name and copywrited names should be awarded based on submission of proper document. In any legal dispute, DNS decission is final.



Premium Keyword Price

Each Premium Keyword would be priced at 7500BDT/Year

**Premium Keywords refers to keywords that are equal to or below three (3) Alphabets (i.e. 'JOB', 'RAB', 'GO', 'X', 'DO')

** Premium Keyword refers to Keyword containing proper nouns and names of Country, City, Famous Brand, etc. for example: 'Dhaka', 'India', 'Robi', 'BMW', 'Armani'.

**An index of premium Keywords will be provided.