Solution for Bank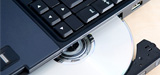 EMV Migration
Solution For Bank (EMV Migration)
EMV Personalization Steps





Issuer order cards from manufacturer and the cards are sent from manufacturer to personalization location.

Issuer's card management system prepares a traditional card personalization data file.

Card personalization Data File is process by an EMV Data Preparation (DP) system. A new data file is prepared and to be fed into the Card Production (CP) Personalization system.

A Card Production (CP) Personalization system accepts the output file from data preparation process as input and performs the true physical personalization by interacting with the smart card on the personalization device. The EMV card is now personalized according to the final cardholder profile and to be delivered to the cardholder.